Na Velký pátek, Velikonoční svátek vydal Apple Inc. svůj iPad. Jedná se o MP4 přehrávač podobný telefonu iPhone s větším displejem, v poněkud zastaralejším formátu 4:3. O tomto přístroji sem již psal velmi rozsáhlou a velmi objektivní recenzi.
V souladu s mou recenzí si i ostatní recenzenti  všímají neexistence Rich Web Internetových technologií. Chybí Flash, chybí Silverlight. Jak sem psal již v recenzi, toto Vám bude vadit u nějakých 10% webů. Podle pana Hulána se jedná dokonce až o 50% všech webů. Nejste-li o přístroji informování, pročtěte si recenze.
Lákadlem iPadu je samozřejmě široké portfolio aplikací dostupných pro iPhone. Většina těchto aplikací jsou zbytečnosti, ale to američanům zjevně příliš nevadí. Jako problém bych viděl použití některých aplikací na větším displeji, na který nebyly připraveny.
Fronta na Apple alias tropické ovoce
Jak mnozí z nás vědí, v minulosti nebylo mnoho zboží k dispozici. Zejména v období po 2. světové válce, ale i později se stály relativně krátké :-) (typicky pouhé 2 hodiny)  fronty na některé typy tropického ovoce. V USA se stojí v 21. století 6-ti hodinové fronty na kontraverzní výrobky Apple, a to i přesto, že mají zákazníci předobjednáno. Neuvěřitelné.
Co myslíte? Jsou čekající na výplatní pásce Steve Jobse? Svět obletěly šťastné úsměvy pár Američanů, co si koupili MP4 přehrávač/fotorámeček  s velkým displejem. Budou pak spokojeni?
iPad screnshoty- přístroj mnoha tváří:
[caption id="attachment142" align="aligncenter" width="300" caption="iPad best web experience ever"]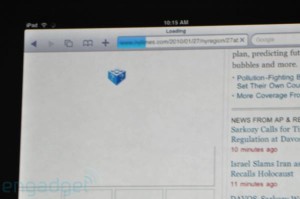 [/caption]
---
[caption id="attachment143" align="aligncenter" width="300" caption="Need-for-Speed na iPadu"]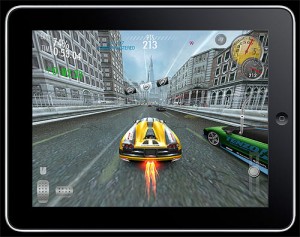 [/caption]
---
[caption id="attachment144" align="aligncenter" width="236" caption="Elektronické knihy pro iPad"]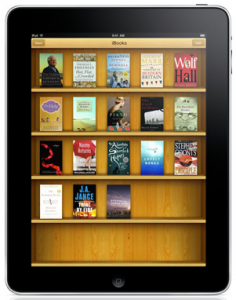 [/caption]
Steve Jobs přišel s iPadem již tradičně brzy a uspěchaně. Nicméně masivní reklama a Apple DRM bude slavit úspěch. Věřím, že za pár let se bude jednat o velmi zajímavé zařízení.
Obchodní tip: AAPL mírný růst