S novou verzí systému WordPress přichází nový článek ze seriálu o software Celestia. Dnes se podíváme za hranice sluneční soustavy a budeme k software velmi kritičtí.
Svět za hranicemi sluneční soustavy je velice rozsáhlý a je velmi málo probádán. Nejvzdálenější člověkem vytvořený objekt je 822 kg vážící sonda Voyager 1 , která v současné době studuje tzv. helioplášť , měří sluneční vítr a výplň mezihvězdného prostoru. Voyager 1 si lze stáhnout do Celestie a upravit jeho polohu pomocí Celestia skriptů.
Jak jsou v Celestii tvořené vesmírné objekty:
Narozdíl od sluneční soustavy, která je vědecky dobře prozkoumána, připomínají vzdálenější objekty spíše počítačovou hru Elite, než skutečně vyzkoumané vědomosti.
V Celestii můžeme objekty vyhledávat zadáním jejich jména. Tedy např. Enter Proxima Enter najde hvězdný systém Proxima Centauri. V textové informaci vidíme vzdálenost od předchozího objektu (planeta Země) ve světelných rocích. Pokud používáte detailní popis Verbose,  získáte i další zajímavé informace. Jsou jimi absolutní magnituda, luminozita (v porovnání se Sluncem), povrchová teplota hvězdy v kelvinech a její poloměr ve srovnání s naším Sluncem. Zmáčkněte C – vycentrovat a uvidíte pohled na Vámi zvolený objekt (tedy Proximu Centauri) z předchozího objektu (planeta Země).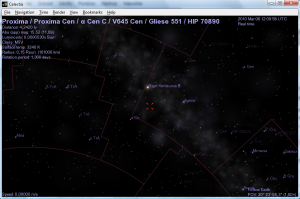 Kříž ukazuje ve směru Proximy Centauri
Všimněte si, že nejbližší hvězda je tak slabá, že není ze Země vůbec zrakem viditelná.  Proxima Centauri je slabá proměnlivá hvězda spektrální třídy M5V. Povrchová teplota o něco víc, než žárovka (3240 K). a září velice slabě.  Obyvatelné zóna takové hvězdy by byla mnohem blíže než u našeho Slunce. Zde se existence života pozemského vzhledem k proměnlivosti hvězdy nepředpokládá. Vzdálenější Riegel Kentaurus (viz. obrázek) je zřetelnější.  Stiskem lomítka zapnete zobrazení souhvězdí a můžete k nim doplnit i latinské názvy (v Options).
Nejbliží Slunci trošku podobný systém je již zmíněný Riegel Kentarus (dvojhvězda Alfa Centauri), vzdálený 4,365 světelných let.  Obě hvězdy A i B jsou podobně velké jako naše Slunce, hvězda A je o něco větší a záříc více, hvězda B je menší než Slunce a září pouze polovičně než Slunce. Teplota Rigel Centaurus A a Slunce je zhruba stejná, Riegel Centaurus B je studenější.
Zde je nekonzistence v ovládání Celestie. Mac verze používá Celestia Browser (který je přehlednější, ale chybí zde řazení podle vzdálenosti od současného objektu). Windows a Linux verze  obsahuje Star browser, ve kterém můžete hledat hvězdy seřazené podle vzdálenosti od současného objektu. Hvězdy je možné hledat podle nejrůznějších kritérií. Nejbližší hvězdy, nejjasnější hvězdy (obři) a hvězdy, u kterých zatím byly nalezené planety.
Pokud se nacházíte ve Vámi zvoleném hvězdném systému, můžete se podívat na další objekty. K tomu slouží Solar System Browser. Ten je pro systém  Alfa Centauri prázdný, protože se nám doposud nepodařilo najít v této soustavě jakýkoliv objekt (kromě oné dvojhvězdy).
Hvězdy a jejich planety
Nejbližší hvězdou, u které byly nalezeny planety je Epsilon Eridiani. Je to 13. tá nejbližší hvězda od našeho Slunce. Nachází se 10,52 světelných let od Země.   Najděte ji ve Star browseru a zadejte Go. Přesvědčte se, že máte zapnuté zobrazování planet a jejich drah. Okolo Epsilon Eridiani obíhají minimálně 2 planety. Jejich textury jsou samozřejmě pouze fikcí danou srovnáním s naší sluneční soustavou. V systému jsou dvě planety. Eps Eridiani b a Eps Eridiani c.  Jedná se o plynné obry umístěné za obyvatelnou zónou hvězdy. Eps Eridiani b připomíná náš Jupiter, nicméně se zdá být chladnější.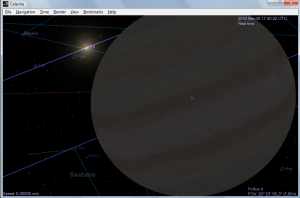 Obří plynná planeta Epsilon Eridiani B
Hvězda s velkým počtem planet
Binární systém (dvojhvězda 55 Cancri)  má nejvíc planet. Planeta 55 Cancri f je plynný obr velikosti Saturnu, který se nachází v obyvatelné zóně hvězdy. Možná si vzpomínáte na předchozí díly seriálu a na Saturnův  měsíc Titan. Není vyloučeno, že by kolem 55 Cancri f mohl obíhat nějaký velký měsíc, který by mohl být teoreticky obyvatelný (s hustou atmosférou a stabilní teplotou někde nad 0°C).
Velké hvězdy
Z velkých hvězd se  mi zdá nejzajímavější hvězda Betelgeuse. Obrovská, rudě svítící hvězda je 600 krát větší, než naše Slunce. Těšte se na její případný výbuch (supernova). Otázka je, jakým směrem půjde Gamma záblesk… Podle některých expertů by výbuch této supernovy bylo možné pozorovat pouhým okem, a to zřejmě i ve dne. Betelgeuse je 640 světelných let daleko. Pokud by byla vzdálená méně než 30 světelných let, museli byste pravděpodobně utíkat do protiatomového krytu.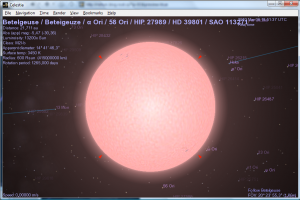 Betelgeuse jak by byla vidět z planety Uran, zabrala by celou oblohu
Gliese 581 – Superzemě v blízkosti okolo slabé hvězdy 
Nadšení astronomů i veřejnosti vzbudila slabá hvězda Gliese 581, 4× menší než naše Slunce a odhadem 500× slabší (luminozita). Kolem této hvězdy vzdálené zhruba 20,5 světelných let totiž obíhá několik objektů jen o něco větší, než naše Země. Planeta Gliese 581 c pravděpodobně leží v obyvatelné oblasti hvězdy a je na ní teoreticky možný život pozemského typu. Celestia odhaduje teplotu na 260–280K. To je velmi podobné, jako má naše Země. Experti si myslí, že se jedná o skalnatou planetu s povrchovou teplotou 0–40°C. Absolutní bomba…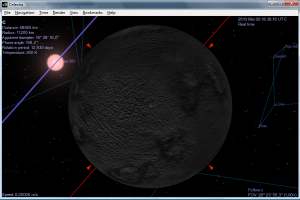 Nejbližší potenciálně obyvatelný svět Gliese 581c
Problémem Celestie je neschopnost dobře zobrazovat jiné objekty než hvězdy. Zajímavé je, že první planety byly objeveny u pulsaru. Tedy nejen kolem hvězd je možné mít planety. První planety vůbec byly objeveny u pulsaru PSR B1257+12. Pulsar se nachází 980 světelných let od Země.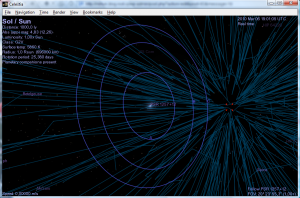 Na obrázku vidíte pulsar PSR 1257+12, u kterého byly objeveny vůbec první exoplanety. Křížek ukazuje na Zemi
Celestia je velmi zajímavý software. Hodí se na výuku naší sluneční soustavy. Méně vhodný je už pro zobrazování vzdálenějších objektů.  Chybí mi zde seznam přehledný seznam pulsarů, quasarů, mlhovin nebo lepší zpracování galaxií.
Co bude příště: Příště se podíváme po nějakých UFOunech a navážeme s nimi komunikaci. Poznánka: WordPress má zjevně problém rozumět HTML, center mu nic moc neříká. To my budeme v mimozemské komunikace úspěšnější.
Zdroje: [1] Wikipedia, The Free Encyklopedia [2] Exoplaneten.de, podívejte se zde na imaginace mimozemských světů