Po drobné odmlce způsobené analýzou možností vývojářského softwaru Delphi 2010 pro klienta se dostávám ke slibovanému pokračování o Celestii.
Sluneční soustava je (bohužel) na začátku 21. století jediná hvězdná soustava, kterou relativně dobře známe. V software Celestia je velmi dobře zpracována.
Slunce: V Celestii jej najdete pod jménem Sol, zadáním ENTER Sol ENTER se zaměříte na objekt naší mateřské hvězdy. Stiskněte G (Go) a můžete sledovat slunce pěkně zblízka. V Celestii je to bezpečné, naživo Slunce rozhodně nesledujte. Slunce je hvězda hlavní posloupnosti, spektrální třídy G2V. Zajímavé je, že i přes jeho obrovskou velikost se jedná pouze o žlutého trpaslíka. Povrchová teplota je příjemných 5860 K. Mějte zapnuté detailní informace o objektech (Verbose – Shift+V).
Merkur – nejbližší planeta k mateřské hvězdě. Planeta s velmi rozdílnými teplotami. Průměrná teplota příjemných 410 K (Fryi , vem si šortky). Na pólech, kam nedopadá sluneční světlo, může být teplota hluboko pod bodem mrazu. Stáhněte si Celestia skript pro Merkur, velmi zajímavé a poučné. V Celestii jej najdete pod označením Mercury, případně využijte Solar System Browser (U Maca Command+B – Celestia Browser)
Venuše – Poněkud horká planeta. Skleníkový efekt se činí, takže na dvojčeti Země je  735 K. Celestia ukazuje teplotu 230K. Všimněte si, jaký rozdíl teplot může způsobit skleníkový efekt. Z teoreticky obyvatelné planety blízko obyvatelné zóny hvězdy se stává pec. Z malých planet má veliký atmosférický tlak 93 barů, čili 9,3 MPa. Mraky jsou tak husté, že pouhým okem nelze vidět povrch. Zde uspěl především Sovětský Svaz, který se na průzkum této planety zaměřil. Bližší informace o Venuši (Venus) získáte stiskem pravého tlačítka myši a Info. Případně koukněte na Celestia skipty. Zajímavý je rozdíl vzhledu planety a při vypnuté atmosféře.
Mars – Rudá planeta za obyvatelnou zónou Slunce. Příští cíl kosmické mise. Teplota podle Celestie 211K. Představte si Sibiřskou tajgu uprostřed zimy se slabou, jedovatou atmosférou naplněnou převážně CO2 s tlakem 700–900 Pa. Příjemný pobyt. Zde mohu doporučit Celestia skripty. Velmi názorně Vám ukáží rozdíly mezi velikostí suchého ledu na severním a jižním pólu. Podíváte se i na největší horu sluneční soustavy Olympus Mons.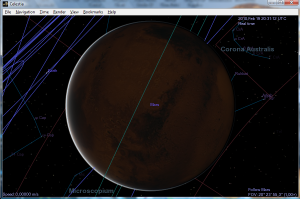 Pohled na Zemi a Měsíc z Marsu
Jupiter – největší planeta. Tento plynný obr je známý svou obrovskou radiací. Má mnoho zajímavých Měsíců. Nezajímavější na pohled je Měsíc Io (film Outland), na kterém probíhá intenzivní sopečná činnost způsobená slapovými jevy. Měsíc Europa je zajímavý možným podpovrchovým oceánem, pravděpodobně vodním. Přistát na Europě však znamená zemřít na nemoc z ozáření. 540 rem/den je více než smrtelná dávka. Dlouho byste se na obří Jupiter z povrchu Europy nedívali. Zajímavý je největší měsíc soustavy Ganymed a Callisto, který je mimo radiační pásy Jupitera. Právě Callisto je považován za vhodnou základnu pro průzkum Jupiter a jeho měsíců. NASA tam plánuje vybudování základny.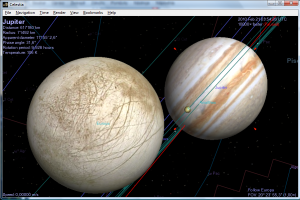 Pohled na měsíc Europa a Jupiter, na obrázku je vidět i měsíc Io
Saturn – Velmi zajímavý plynný obr. Je mnohem méně radioaktivní než Jupiter. Určitě se podívejte na jeho měsíc Titan. Tento měsíc je velmi ojedinělý a sem si jist, že jednou bude ekologicky chráněný. Je to jediný měsíc, který má větší atmosférický tlak než naše planeta Země.  Představte si rande se svou vyvolenou, letní procházka v termooblecích při příjemných –180°C, a úchvatný pohled na obří Saturn při metanovém deštíku. U metanového jezírka můžete házet žabky a koukat na nějakou tu kryosopku, která chrlí H2O, čili vodu. Zajímavý je i měsíc Enceladus. Měsíc Iapetus hrál roli ve slavném románu A.C.Clarka 2001: Vesmírná Odysea.
Poznámka. V kryosauně je –140 °C, tak si vyzkoušejte, jak snášíte poněkud nižší teploty. Problém Titanu z hlediska snášení teploty je atmosféra. Ta je ale skvělá pro ochranu proti kosmickému záření. Navíc můžete v jeho relativně husté atmosféře létat, a to vlastními silami.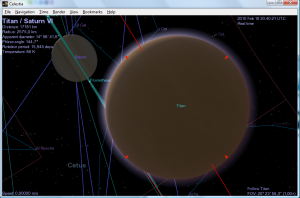 Pohled na měsíc Titan a Saturn
Uran a Neptun – zajímaví plynní obři, již dost vzdálení pro další výzkumy. Mají zase několik zajímavých měsíců.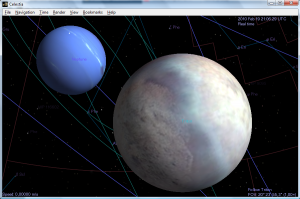 Pohled na měsíc Triton a planetu Neptun, moc pěkný výhled
Pluto – Pluto byl překlasifikován na trpasličí planetu. Určitě si v Celesii zapněte zobrazování Dwarf Planet, včetně jejich drah (Orbit). Uvidíte i další objekty podobné Pluto. Jeden z nejbližších Zemi je 1Ceres.
Závěr: Celestia zobrazuje sluneční soustavu velmi pěkným a věrným způsobem. Můžete si stáhnout detailní textury objektů a sledovat množství údajů. Výhodou jsou široké možnosti stáhnutí skriptů, které jsou velmi poučné.
Příště se podíváme tam, kam se nikdo z nás osobně nepodívá. Za hranice soustavy. To je samozřejmě slabá stránka software Celestia, zde se láme hůl nad opensource respektive profesionálním softwarem. No a pokusím se získat případně nějaké fotky a imaginace. To záleží na povolení jiných autorů.